With our events space, your awards dinner will be a night to remember. Our stunning venue offers luxurious surroundings and outstanding amenities, including delicious catering options. Our dedicated team will work closely with you to create a memorable and flawless event that will exceed your expectations.
The Royal Highland Centre has plenty of experience in hosting award dinners, with our spaces renowned for their versatility, charm, and first-class amenities adding prestige and glamour to any awards ceremony.
Wow your guests with the impressive architecture and picturesque landscapes of our Pavilion building as a fitting backdrop for a night of celebration and recognition. The venue's easy access for attendees make it a convenient choice for both local and international guests.
The centre's award dinner hosting capabilities are bolstered by its seasoned event management team. With years of experience in organising various events, including award ceremonies, our events team collaborates closely with clients to understand their vision and tailor the setup accordingly. From designing the seating arrangements to crafting the lighting and ambiance, every detail is meticulously planned to create a captivating atmosphere that reflects the significance of the awards being presented.

The venue boasts multiple spaces that can cater to award dinners of varying sizes and themes. Whether it's an intimate gathering or a grand gala, the Royal Highland Centre can accommodate events of all scales. The flexibility of its indoor and outdoor spaces allows for creativity and personalization, ensuring each award dinner is a unique and memorable experience.
One of the hallmarks of hosting award dinners at the Royal Highland Centre is the exceptional catering services. The venue partners with top-tier catering, Saltire Hospitality, who offer a diverse array of menu options, catering to different dietary preferences and culinary tastes. Guests are treated to an exquisite dining experience, adding to the overall enjoyment of the evening.
Additionally, the Centre's commitment to delivering a seamless experience is evident in its technical capabilities. State-of-the-art audio-visual equipment, including large screens and sound systems, ensure that the award presentations are clear and impactful. The venue's technical staff is on hand to provide support throughout the event, ensuring that everything runs smoothly.
For organizers seeking a prestigious and memorable setting to honor achievements, the Royal Highland Centre stands as the perfect choice.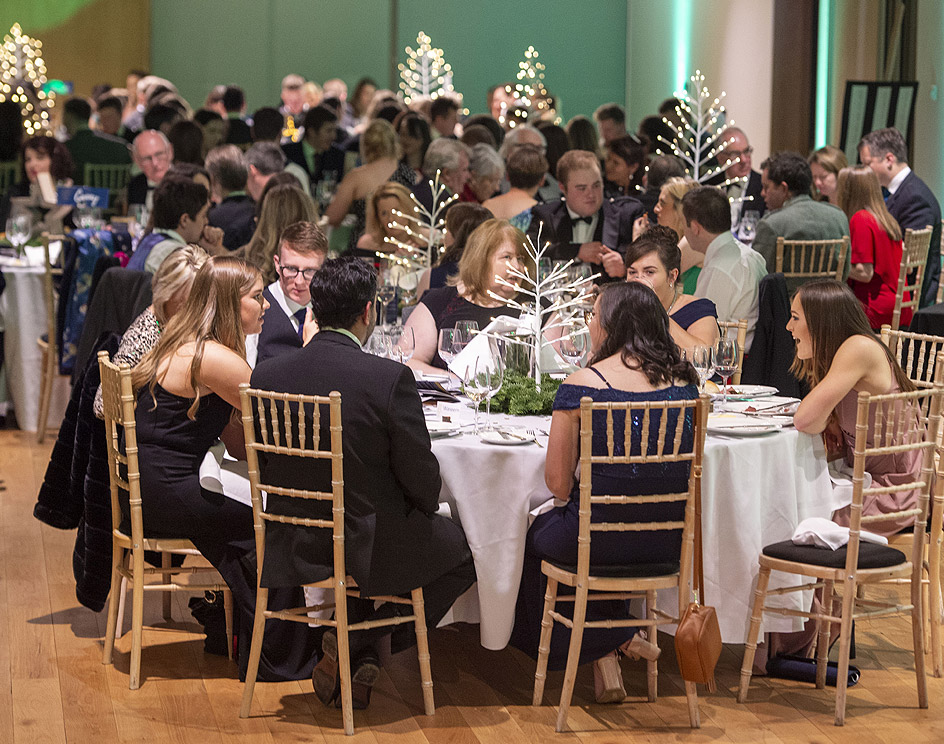 We have hosted Christmas dinners for organisations including the Scottish Association of Young Farmers Clubs